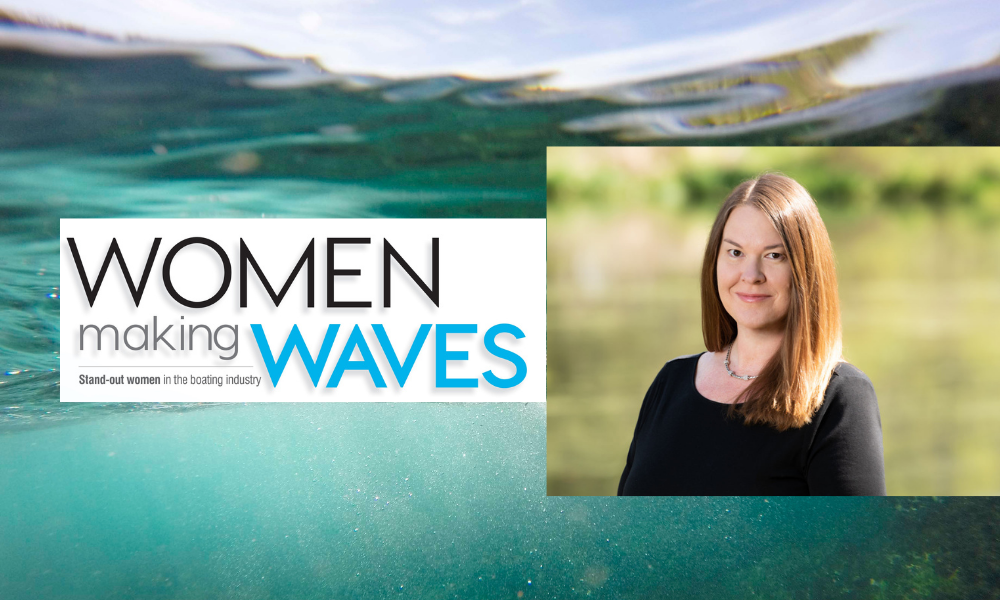 Each year, Boating Industry magazine selects 25 women in the industry who have made and continue to make great contributions to its success, propel its growth and lead their organizations and peers into the future.
In 2020 I was honored to be selected as one of the 25 Women Making Waves for 2020, as nominated by the industry & selected by Boating Industry magazine from over 100 nominations.
Read my Women Making Waves write-up of memorable achievements in the marine industry:
What first drew you to the marine industry?
My opportunity to get into the marine industry came with a scrappy little startup called SureShade that enabled me to combine my marketing expertise with my passion for boating. As a boater for over 20 years, I feel fortunate to work in an industry that is focused on a lifestyle and recreational pastime that I enjoy so much personally.
I always lead with "How would I respond to this as a boater?" or "How does this make boating better?" in all my marketing strategies and programs. Understanding the market opportunity from a boater perspective has been an approach that has proved successful for me and the business.
What are some of the biggest lessons you have learned working in the marine industry?
I have learned that despite the ups and downs of the economy, people will always find a way to enjoy boating. Our job in the marine industry is to continue to sell the experience of boating – whether boaters are purchasing a new boat or looking for an aftermarket accessory upgrade.
We also need to continue to raise the bar and exceed their expectations by introducing new technology, jaw-dropping design or next-level performance features. For an industry that was not known to embrace change well 10 years ago, I now see it as very adaptive and innovative and there has never been a more exciting time to be a marketer in the boating industry.
If you had to choose one memorable achievement in the marine industry, what would it be and why?
The business growth milestones are the most exciting moments for me. I remember being at the Miami Boat Show in 2013 celebrating SureShade's five-year anniversary – our boat shades were on 50 boat models and it just seemed like we were on top of the world. Fast-forward seven years, and we have nearly quadrupled our number of factory-installed models.
This growth certainly came from having a great product that appeals to boaters, but I am also proud that my efforts in building the brand played a significant role in our growth. The brand and business we built resulted in our 2019 acquisition by Lippert Components Inc., and we are now positioned for even greater innovation and growth as part of their marine group of brands that includes Taylor Made and Lewmar.
Was it difficult to navigate a career in this industry? Why or why not?
The boating industry may be big, but it can also be relatively easy to build a name for yourself when you have confidence in the value you bring and are open to making connections in an authentic way. Typically, I can bond over two mutual goals – sell more boats and elevate the boating experience. People in the industry with that same "how can we make this a win-win?" mindset are naturally drawn to each other and will respond well to a collaborative approach.
How do you hope to inspire other women in the marine industry?
Although boating is certainly a male-dominated industry, we should feel proud that there are many stand out women leaders in the marine industry – from presidents of boat builders to marine accessory marketers like myself. Women are major influencers in the boat purchasing decision, and I believe that the marine industry values a women's perspective and understands women represent an important voice in the industry.
What advice do you have for women starting their careers in the marine industry?
Find your niche, show up and be seen! Make yourself known in the industry for whatever you do best and leverage opportunities to build your own personal brand.
What is your favorite place to go boating?
Chesapeake Bay in Maryland with my husband and two daughters. The Chesapeake has many beautiful anchorages and great destinations like Rock Hall or Annapolis. Our experiences on the water as a family have fueled my passion for the industry as well as the creation of MyBoatLife.com and BoaterKids.com – two sites I founded that promote the boating lifestyle.
Read the full 25 write-ups from June/July 2020 issue here: